Finnish Small Data Garden Ltd and IISY Ltd are launching a partnership to provide effective solutions for property management and indoor air control.
Small Data Garden's IOTSU® sensors and sensor platforms can collect diversified and accurate information about the indoor air and other measurable conditions inside properties. The solution is totally wireless and can be quickly and easily deployed in all properties. The indoor air data collected by devices is directly transmitted to a cloud server, so the indoor air data can be utilised immediately.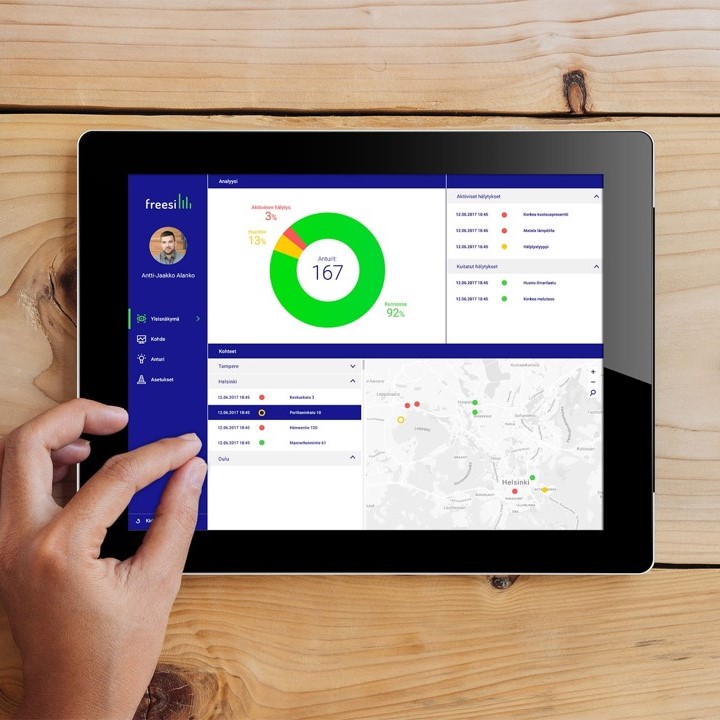 The Freesi Indoor Air Service comprises sophisticated tools and digital specialist services that can be deployed to effectively prevent the occurrence of indoor air problems. The service is fully compatible with Small Data Garden's measuring equipment, so the customer can easily procure all the equipment and services needed for indoor air management from a single source.
"This collaboration allows us to offer customers a one-stop service package for preventing problems with indoor air quality. The solution combines continuous monitoring of indoor air with a proven service concept for ensuring the good quality of indoor air. Preventing problems with indoor air is far more economical than delaying to rectify them," points out Timo Liukko, Small Data Garden Ltd's board chairman and partner.
"Combining reliable measuring apparatus with digital specialist services allows us to offer a turnkey package that can be deployed easily, quickly and affordably also in large-scale building stock. It took only a few weeks to deploy the solution in building stock of 100,000 m2 in size, and that project immediately produced significant added value for the customer," says Jan-Kristian Westerlund, IISY Ltd's Chief Commercial Officer.
Further information:
Small Data Garden Ltd is a Finnish company that develops, manufactures and sells an IoT platform and associated products for multipurpose sensors. All the company's IOTSU® products are proprietary, and are designed and produced in-house. This ensures that the best expertise is deployed in both product and application, and that products are best suited to purpose. It further guarantees intercompatibility of hardware, software and communication solutions. IOTSU® customers comprise players in the building services and real estate maintenance sectors as well as players in industrial and the logistics, access control and security sectors.
IISY is a digital services expert that specialises in indoor air quality. The company helps property owners manage and improve the quality of indoor air in large-scale building stock with its digital Freesi Indoor Air Service. IISY Ltd was established in 2017 to pursue its mission of "Healthier Buildings, Healthier People" and since then the Freesi Indoor Air Service has become market leader in Finland as a digital specialist service for managing and improving indoor air quality. This unique method for combining digital processes, artificial intelligence and technical specialist services forms a scalable service that produces good results immediately. The turnkey service is currently in use in the buildings of over 70 major players in the public and private real estate sector. The service is deployed in over 700,000 square metres of commercial premises and offices, schools and daycare centres, hospitals, nursing homes, and large residential buildings.