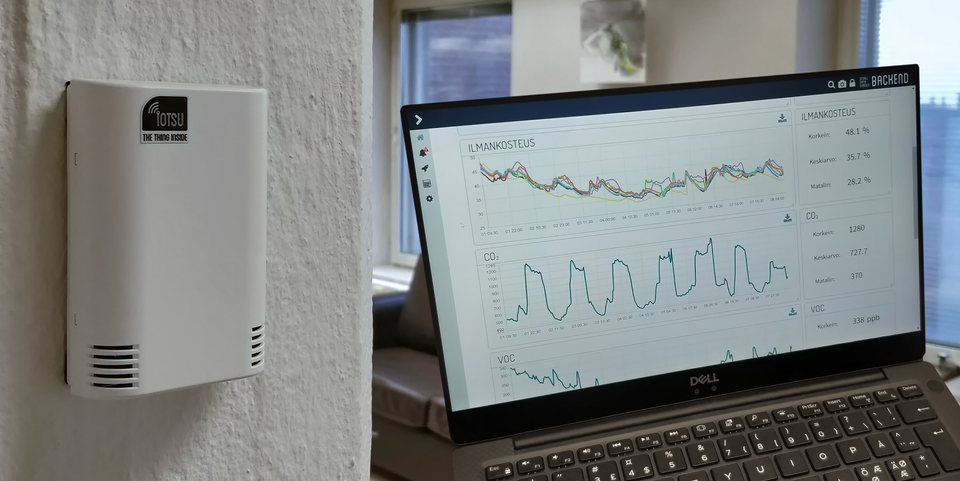 Small Data Garden Ltd, Finnish developer of an IoT platform and measuring sensor products designed to monitor property maintenance, living comfort and energy efficiency, and Digita Oy have agreed on cooperation towards utilising Digita's IoT network for IOTSU® data transmission. At the end of this year, Digita and Small Data Garden will also introduce a new type of terminal device for the LoRa™WAN network.
"Our IOTSU® solution enables the trouble-free and cost-effective supervision of the conditions and indoor air quality at selected points in real-time. Battery-powered IOTSU® products are delivered ready for use, so they can be connected to the network immediately after registration. The solution is based on the IoT platform we have developed, and wirelessly measures indoor air temperature, humidity, carbon dioxide and, if necessary, also VOC (volatile organic compounds) and pressure difference," explains Timo Liukko, Chairman of Small Data Garden. "That gives us an extremely comprehensive overview of indoor air quality. The data is transferred directly to our user interface, via which the information collected can be monitored and analysed so that corrective actions are precisely targeted," adds Liukko. "We're delighted that we can now offer our services also on Digita's LoRa™WAN network."
"Digita's goal is to provide building developers and property owners with the tools to develop new services that will enhance living comfort and improve energy efficiency. We're very pleased that Small Data Garden has joined Digita's IoT ecosystem, offering high-quality solutions for collecting sensor data via our nationwide LoRa™WAN network," says Ari Kuukka, Digita's Director, IoT Services. "In practice, Small Data Garden's devices will be attached to the desired measuring points and data from them will travel along Digita's radio network to the customer's user interface. This is an easy and convenient way of monitoring the status of real estate and reacting rapidly to any alerts," adds Kuukka.
Contact information for media:
Small Data Garden Ltd, Timo Liukko, Chairman and partner, tel. +358 40 701 2272, timo.liukko@kolumbus.fi
www.smalldatagarden.fi
Digita Oy, Ari Kuukka, Director, IoT Services, tel. +358 40 149 7942, ari.kuukka@digita.fi
Small Data Garden Ltd is a Finnish company that develops, manufactures and sells an IoT platform and associated products for multipurpose sensors. All the company's IOTSU® products are proprietary, and are designed and produced in-house. This ensures that the best expertise is deployed in both product and application, and that products are best suited to purpose. It further guarantees intercompatibility of hardware, software and communication solutions. IOTSU® customers comprise players in the building services and real estate maintenance sectors as well as players in industrial and the logistics, access control and security sectors.
Digita owns and operates Finland's leading terrestrial network for nationwide TV and radio transmissions, and is the country's largest independent owner of telecommunication masts. The company is a provider of digital software and services. Digita's services include telecommunication masts, data centre and IoT services, and broadcasting services for the future. Digita provides services to Finland's largest mobile phone operators, internet and media companies, infrastructure enterprises and real estate owners. Digita employs 180 experts across Finland. www.digita.fi, www.digitamahdollistaa.fi
---
Article at digita.fi:
https://www.digita.fi/medialle/tiedotteet/small_data_gardenin_iotsu_-palvelu_hyodyntaa_digitan_lorawan-verkkoa.5809.news
Article at sttinfo.fi:
https://www.sttinfo.fi/tiedote/small-data-gardenin-iotsu-palvelu-hyodyntaa-digitan-lorawan-verkkoa?publisherId=4018&releaseId=69866994